FIRST PRESBYTERIAN PRESCHOOL
As the First Presbyterian Preschool, we are committed to a loving and nurturing educational experience of the highest quality, inspiring each child in the name of Jesus Christ.
Themes are changed on a monthly basis, but fall under the following headings. All class activities are prepared for appropriate developmental stages. Our Preschool Class also utilizes the Handwriting Without Tears Curriculum.
Pre Math
Language
Physical Skills: Gross and Fine Motor
Science
Creative Expression
Music Appreciation
Social Development
Safety
Bible Focus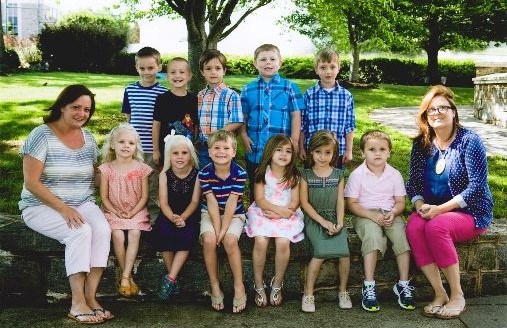 Enrichment activities are provided mainly for our 3 and 4 year old classes, but younger children are invited to attend when appropriate. We  have Monthly Visits from:
Sharon Clarke – Storyteller
Stretch-n-Grow (fitness program)
Catawba Science Center
Hickory Museum of Art
Bi-Weekly Chapel Times
Weather permitting, each class plays outdoors daily. We are equipped with three developmental appropriate playgrounds. Babies and toddlers often stroll downtown. When weather does not allow outdoor play, First Presbyterian offers KidzSpace as an indoor activity space!
Babies, Toddlers, and Twos are offered three choices of days to attend preschool:
Monday, Wednesday, Friday
Tuesday, Thursday
Monday through Friday
Three year olds:
Monday, Wednesday, Friday
Monday through Friday
Four year olds:
Because we strive to offer a nurturing and educational environment to the highest quality, we do not allow parents to bring their child on days in which they are not registered. For more information please contact Sarah via email or by phone at 828-322-6343.